A hospital for everyone: Building one of Canada's most accessible hospitals
Feb 27, 2023
Going to a hospital for care or to visit a loved one can be stressful. The Ottawa Hospital wants to make getting to, navigating and using the facilities at our new hospital and new hospital campus as easy and comfortable as possible for everyone.
"One of the priorities from the beginning as we plan the new hospital and campus is to make it as efficient and as easy as possible for everyone to get where they're going," said Karen Stockton, Executive Director of Planning and Development at The Ottawa Hospital. "We want the new facility to be welcoming for people with a wide range of abilities and for patients and their families to be as comfortable as possible whether they're staying in hospital, visiting or here for outpatient services or clinics."
Well connected to public transit, and with easy to understand and predictable wayfinding, the goal is to make navigating and moving around the 2.5 million square foot facility efficient for everyone.
The new hospital will be accessible by foot, bike, public transit, or car with ample parking spaces for cars and bikes.
Para Transpo, private vehicles, taxis and rideshare services can all drop patients off at the main entrance, and accessible bike parking will be available for people who ride adapted bicycles or tricycles. The four-storey parking garage will include 72 accessible spaces and 144 limited mobility spaces located close to elevator banks. Additional accessible spots will be located at the main entrance and at the emergency entrance, one floor below grade.
People who take transit or park in the parking garage can access the hospital through a direct, indoor walkway to the hospital accessible from the parking garage and the LRT station. The walkway is also accessible from street level through elevator banks and stairs located in two areas along the route. The route will be open and spacious with seating and rest spots and with large windows overlooking a park.
Moving sidewalks will increase accessibility and overall mobility and help people to get to their destinations quickly and comfortably.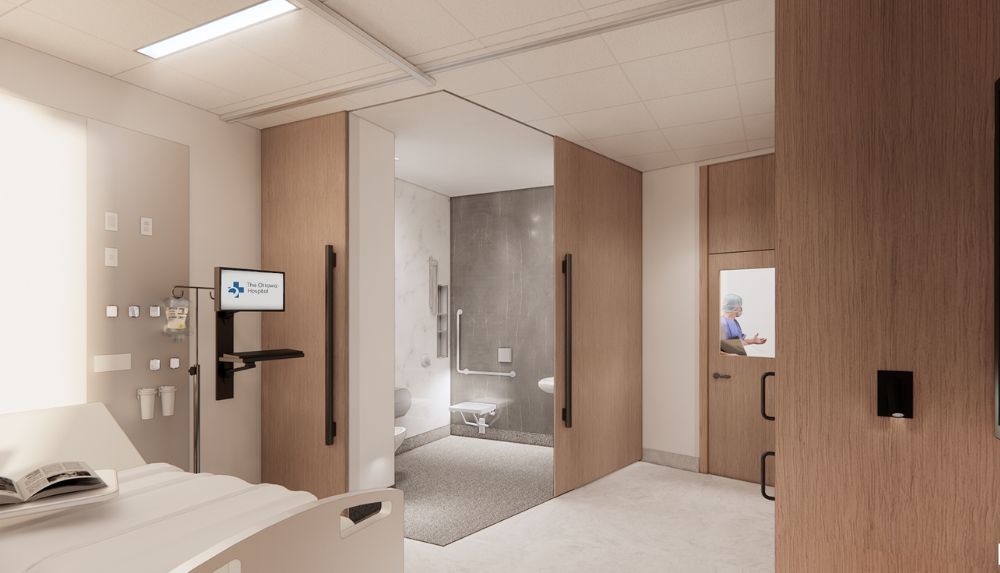 Designing spaces that work for everyone
We've all been there – late for an appointment, rushing to find a parking spot and frantic to find the elevator that will take us to the correct floor.
If the hospital isn't accessible, these feelings can be elevated for many people, says Marnie Peters, an accessibility expert working with The Ottawa Hospital on the new campus.
"Being in hospital can be inherently stressful," said Marnie. "And then, when the exam table is a little too high, or the bathroom isn't quite large enough, or the floor patterns give you a migraine – your experience becomes even more difficult."
With a focus on patient experience and as work to design the state-of-the-art new hospital moves ahead, The Ottawa Hospital is working with stakeholders and experts to ensure the hospital and the surrounding site is compliant with the goals and principles of the Accessibility for Ontarians with Disabilities Act (AODA), to achieve a barrier-free Ontario by 2025.
And in many areas TOH is going above and beyond minimum code requirements to incorporate best practices of universal accessibility, a design approach that assumes people will come to the hospital with a range of abilities that will be accommodated by a wide range of accessible building features and equipment that is universally accessible and able to be used by everyone.
Every patient room will have extra space to allow patients or visitors who use wheelchairs or other mobility aids to move through the room easily. Patients can access their private washroom through double sliding doors that meet on a corner to allow for a direct route from the bed to the toilet or to the roll-in shower, and which can be fully closed to ensure privacy.
Most outpatient clinics in the hospital will be in easy-to-find areas, intuitively located on the main floor to reduce travel distances and times.
Rest areas and patient lounges with a variety of seating options will be located throughout the building so that no matter where they are, patients and visitors can find a place to rest when they need it. Handrails will be placed to provide support as people move throughout the building.
Washrooms throughout the hospital will go beyond building code requirements to be fully accessible for all users. While there will be a small number of multi-user washrooms in the building, in addition to being fully wheelchair accessible, all individual washrooms will be "All-Access." At least one washroom on every floor will have an adult changing table and accommodate a larger turning radius.
"We want to make washrooms for people," said Marnie. "The concept of an 'All-Access' washroom means anyone can use it regardless of gender identity or mobility. Everyone who comes into the hospital will be able to use a washroom without worrying about finding the right one for them, or having to take an elevator to find one that is accessible."
Accessibility is a priority across TOH
As work on the detailed design of the new hospital continues, accessibility will continue to be a priority for The Ottawa Hospital as a whole. The hospital's internal Accessibility Office works to create an accessible environment at The Ottawa Hospital and ensure compliance with the AODA by raising awareness, training staff members, and identifying and removing barriers to accessibility. The office is closely involved with planning the new hospital and reviews designs at every stage of planning.
"Our accessibility team remains deeply committed to and engaged in the process of planning the new campus, while at the same time working to ensure all our sites are meeting requirements – and going beyond them wherever we can," said Manon Laliberté, the manager responsible for TOH's Accessibility Office. "The new campus gives us such a great opportunity to build in accessibility from the beginning of the planning process, and to create a great experience for our patients, visitors and staff."
TOH has also established an accessibility consultative committee dedicated to reviewing new campus development project updates and providing feedback. TOH has presented to the City of Ottawa's Accessibility Committee and held a public town hall on accessibility at the new campus in June 2022.